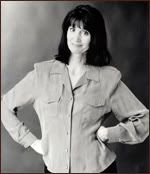 The first time that I saw Kathy Buckley on Comedy Central, I was blown away.  There, standing on stage, was a hard of hearing gal firing off jokes and one-liners.  Every now and then, I would see her throw in a sign or two, perhaps out of habit or perhaps to connect with the many deaf and hard of hearing people who enjoy her comedy routines.
Kathy is still involved with comedy and currently working on a routine called "Puberty at 50."  She is a speaker who is in high demand and every time that I talk with her, I find that she's flying off to one place or another.   I once saw Kathy speak to group of parents and professionals, and I watched how she connected to everyone in the room with her stories and slices of inspiration.  She is indeed, a master at public speaking.   Kathy is also on the Anthony Robbins Life Mastery Classes.
Take a look at the awards she has won throughout the years:
Achievement Award for the Year 2002:
Reynolds Society
American Hero Award: City of Hope
Empowering Women Around the World: CARE Communication and Leadership Award: Toastmaster International
Media Awareness Award; The Dole Foundation
Hero Award: Challenge Center
Woman of the year: Oralingua School
Valley of the Hearts Award: Parents Helping Parents
Lois Tarkanian Award: Lois Tarkanian Founding Administrator
Better Hearing Achievement Award: Better Hearing Institute
Help America Hear Humanitarian Award: Hear Now Foundation
Individual Achievement Award: National Council on Communicative Disorders
Award of Excellence: New York State Theatre Education Association
Walter Knott Service Award: Goodwill Industries
President Awards: PATH
Ovation Award: Best Writing
Drama-Logue Award: Best Writing, Best
Performance Media Access Award: Best Play
Cine Golden eagle Award: Outstanding
Video Production PBS Special: No Labels, No Limits
Media Access Award: 2002 Outstanding
Television Special: No Labels, No Limits, Executive Producer
My daughter picked up her book, If You Could Hear What I See
 and read through it three times. She was so inspired by Kathy's life, that she selected her book for an autobiographical book report for school.
Check out a recent article about Kathy at Disaboom:  Comedian Kathy Buckley Continues to Draw Laughs