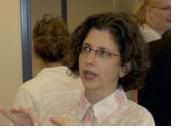 I can clearly remember the first time I met Dr. Carolyn Stern– I was filled with a million questions.  "How do you listen through the stethoscope?" was one of the questions that I asked. 
"I have an amplified stethoscope," she explained.  "I can also sometimes feel for blood pressure."
Dr. Stern was the first doctor that I had ever met who was deaf.  After chatting with her, I learned that there were many more deaf and hard of hearing individuals in the medical field.  At one time, I wanted to go into nursing, but I was pretty discouraged by a well-meaning counselor who pointed out all the difficulties I would encounter in the medical field because I was deaf.  This is why I feel it is so important to show deaf and hard of hearing youth today that they can indeed, do many things in many fields.
Today, Dr. Stern is the Medical Director at the Rochester School for the Deaf and she works in Urgent Care at St. Mary's Walk-In Care Center.  Dr. Stern is also the creator and founder of DeafDoc.org, a website that covers many different health care issues presented in American Sign Language and captions.  I love the quote on her site: "The difficult is easy, the impossible just takes a little longer!"
To learn more about Dr. Stern: The Deaf Doc is In!